I don't know if you've noticed but when it comes to my home decor I have a little ol' black and white theme going on. (Click
here
to have a peek at my previous home posts).
In the spirit of Bank Holiday weekends I have come up with a wish list for us all to spend our money on because, you know, it's the done thing on BH weekends. In order to try and salvage some of your pennies, the items on this list are via
Love the Sales
and have cheeky discounts to boot. You are welcome.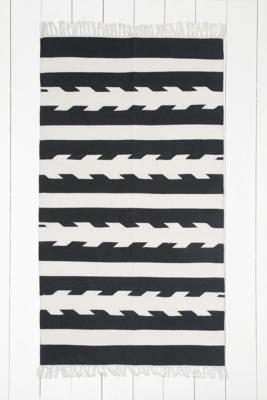 £35 (was £50)
Urban Outfitters Black & White Woven Washed Rug
- This is DREAMY. I want this for my bedroom floor. If you follow me on
Instagram
you'll have seen the new black and white picture I got from IKEA so I'm thinking another black and white statement piece will help bring the room together. In all honestly, for only £35 you can guarantee that by this time next week you'll have noticed a new Instagram post of my new bedroom rug. Treat yo self queen over here.
£103.99 (was £129.99)
House of Fraser View Quest Emma Bridgewater Retro 8 Pin Radio -
A bit more on the pricey side so a bit less likely to end up in my hands within the next week or so, but still very much on my wish list. Whether I'm getting ready for work, writing blog posts, doing housework or sitting out in the garden I always have the radio on. I don't know if that's a sign of getting older? I feel like it might be. I just like it alright. Prosecco + Kisstory make housework all the more bearable. (Good lord I sound like a m-o-m)
£231.20 (was £319)
Kentucky White Dining Table + 4 Black Chairs in the Very sale
- so recently I decided that the dining table I had in my living/dining room was too big for the room and got rid of it all in a somewhat hasty fashion and replaced the space with
this
cosy little corner. Now don't get me wrong - I adore this space now but yeah...it'd be good to have somewhere to eat. My plan is to get the tv mounted onto the wall, get rid of the tv stand that's taking up most of the back wall and then have a little round table in the corner along from where my new chair and rug etc. are. This set from Very is pretty much exactly what I had in mind and is such a good price at the moment. Yes please.
£24.99 (was 49.99)
Wooden Full Length Cheval Mirror in the Argos sale
- Again, if you have peeped my Instagram you may well have noticed the dressing table I have in my room. It does already have a good sized mirror on it but one thing I don't have is a full length mirror so any time I put a new outfit on I'm always having to contort myself into various angles to try and get an idea of how I look (i.e. the result of such contortion never results in me looking sexy) so it's high time I invested in one of these bad boys. And by "invested" I mean spend the same amount as we would on a take away on a Saturday night. Definitely the right thing to do.
So what did you all get up to on the Bank Holiday weekend?
I'm in such a good mood for two reasons; I booked the whole week off work so no 5:45am alarm for me at all this week!
And and AND...!!! I got a new cat. For real. I now have three cats. Cat daft. My boyfriend's sister has decided to go travelling so we decided to take in her cat and expand our little kitty family. This means my plans for this week are to wake up naturally without an alarm and also to make best pals with my new kitty. Not a bad week, right?
Related Posts:
Post written in collaboration.